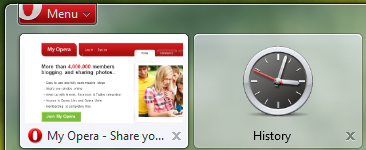 Opera sure has been busy, releasing Opera 10.60 Alpha to the public for Windows, Mac and Linux, just 2 months after releasing Opera 10.50.
Opera 10.60 Alpha is the first new release of the browser for Linux users, who haven't had a new version since Opera 10.20 Alpha.
"This alpha will give you noticeable gains in performance, an improved user interface (UI), and lots of bug fixes" wrote Opera's Desktop QA Haavard.
"You will notice that the O menu button now says "Menu" for easy discovery, and instead of hard to read thumbnails for internal tabs, we have replaced them with icons. The tab hover previews have also received a facelift" continued Haavard.
Windows 7 Aero Peak has been disabled by default, to stop problems with too many open tabs. This can be re-enabled by changing the setting in the Tabs section of the Preferences window.
Performance gains are also noticeable with JavaScript, DOM and CSS.
Opera 10.60 Alpha can be downloaded from the Opera Desktop Team blog.