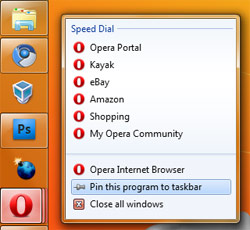 An early pre-alpha version of Opera 10.50 has leaked online, just a day before an official alpha release from Opera.
The leaked version includes new features, such as Windows 7 integration, Presto 2.5 rendering engine, improved find, and a new user interface.
Noticeably absent from this leak, is the new Carakan JavaScript engine, which from early Opera benchmarks indicates is 2.5 times faster than Opera 10.
Early adopters will find this release online, and we will update you when the Opera approved 10.50 hits the web.