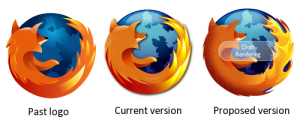 It looks like Firefox 3.5 is set to get a new logo, after Mozilla set out to update Firefox's logo in a bid to reflect the changes in the upcoming browser. The current logo has been the same since Firefox 1.5.
"In a marketplace that is focused on products that are newer, faster, lighter and shinier, design work is inherently perishable. Part of this is larger trends and fashion (for a period of time cars had fins), and part of this is simply ongoing visual change as an indication of overall progress" explained Alex Faaborg, a Firefox User Experience team member.
The final design is still not decided on, but Faaborg has been posting different renderings daily on his blog.