An article written by Richard MacManus from ReadWriteWeb suggests that Google Chrome's battle is with Firefox, and not with Internet Explorer as many think.
They base this data on their Google Analytic data that is collected from their website, with users of the site being described as early adopters.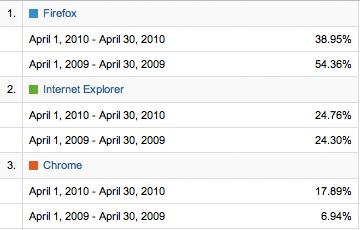 ReadWriteWeb data shows a big drop in Firefox users over the last 12 months, from 54% to 39%, while Chrome has enjoyed a jump from 7% to 18%, all while Internet Explorer usage has stayed constant at around 25%. These statistics make this theory sound plausible.
We can't vouch for these figures in our own statistics, but it is interesting none the less. Market Share data from Net Applications shows that Firefox is still gaining share slowly, while Chrome is also growing, and Internet Explorer is on a one way slop down.
This would suggest that Firefox may be taking users away from Internet Explorer, but that older and more experienced Firefox users are taking the plunge to Google's Chrome browser.
Either way, the entrance of Chrome into the market has surely stirred things up. Statistics over the next few months will be very interesting, with yesterdays release of Chrome for Mac and Linux.