Microsoft has clearly been heard at work, and announced today at MIX10 the availability of Internet Explorer 9 "test drive" (IE9) Developer Preview.
The browser, which is clearly still in its early stages, is missing the expected Internet Explorer interface such as tabs and address bar, but it does allow users to test and see the new JavaScript and rendering engine in action.
Available at ietestdrive.com, the browser includes support for some HTML5 and CSS3 features, including the new video element and CSS3 border radius tags.
Video tag support appears to be limited to the H.264 and MPEG4, while audio is limited to MP3 and AAC, totally ignoring the OGG format for both video and audio.
Microsoft really seems to be pushing standards compliance, and performance with this relase, and it shows. While not perfect, the browser is already leaps and bounds ahead of its predecessor, IE8. With the aid of the new JavaScript engine (codenamed Chakra), the early release browser is able to complete the SunSpider JavaScript benchmark test with a score of 598.80, slightly faster than Firefox 3.6. The browser also scores 55/100 in the ACID3 test, while IE8 only scores 20/100.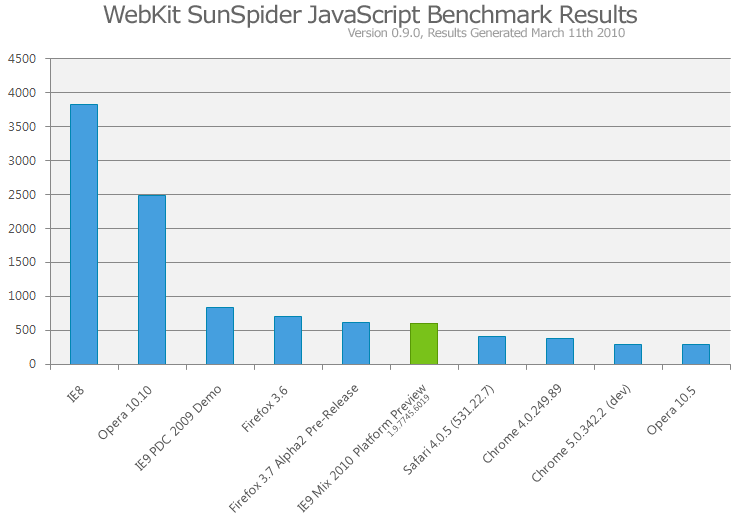 Internet Explorer 9 will be limited to only Windows Vista and Windows 7 users, while XP users will miss out on release.
All round, Microsoft really seem to be putting in a lot of effort with Internet Explorer 9, and it really shows. The Internet Explorer 9 "test drive" is available from the Internet Explorer 9 Test Drive website.