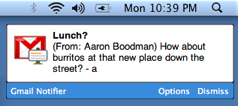 The Chrome team have now enabled desktop notifications for the browser, allowing extensions to step out from a simple icon, and provide a notification box to give users more information.
Desktop notifications are available as of Chrome 5, and Google's own Gmail Notifier is one of the first browser extensions to support the new notifications.
"When notifications are used from an extension, there are no permission prompts or infobar warnings. The experience is seamless – it just works" wrote Chrome Software Engineer, Aaron Boodman.
Full details for developers on how to add desktop notifications to their extensions can be found in the documentation. More desktop notification enabled plugins are sure to pop-up in the coming days and weeks.