Opera Mini Project Manager Marianne Spilling has posted an article on why iPhone users should ditch the phones included Safari browser and switch to Opera Mini.
Along with the usual list of reasons including faster browsing speeds, Spilling goes on benchmark the browser against Safari on several popular sites with the phone in 2G (EDGE), 3G, and WiFi modes.
The difference was huge, with one example Facebook taking 8.8 seconds to load in Opera Mini in 2G mode, compared to 68.2 seconds in Safari. The difference was far less in 3G and WiFi modes, but Opera Mini still came out on top on all occasions.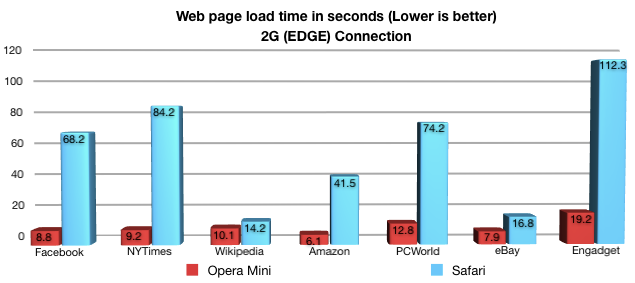 The faster speed of Opera Mini on iPhone is attributed to Opera's Turbo  technology, which pushes all data through Opera's servers and compresses it before sending the webpage to a browsers iPhone.
Full benchmarks can be seen in Spillings article, while Opera Mini for iPhone can be downloaded for free from Apple's App store.