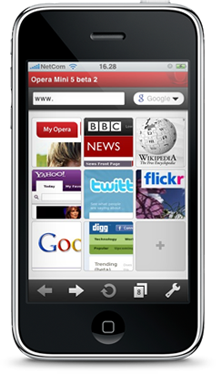 Opera have announced that Opera Mini is heading to the iPhone and iPod Touch today, after Apple approved the app for the devices.
This comes 20 days after Opera submitted the browser to Apple for approval.
"Opera Mini […] enables fast mobile Web browsing by compressing data by up to 90 percent before sending content to the device, resulting in significantly improved page loading. Users of the app will notice an uptake in speed, especially on slower networks such as the 2G Edge network. Surfing the Web with the Opera Mini App on iPhone and iPod touch will also help users save money because of its data compression capabilities" said a press release from Opera.
"We are delighted to offer iPhone and iPod touch users a great browsing experience with the Opera Mini App," said Lars Boilesen, CEO, Opera Software. "This app is another step toward Opera's goal of bringing the Web to more people in more places."
The browser can be downloaded for free now from the iTunes App Store for iPhone and iPod Touch users.