Opera has told The Register it is still unhappy with Microsoft's new browser ballot screen.
The problem according to Opera, is that the ballot screen is completely obstructed when a user opens Internet Explorer for the first time on a fresh installation of Windows.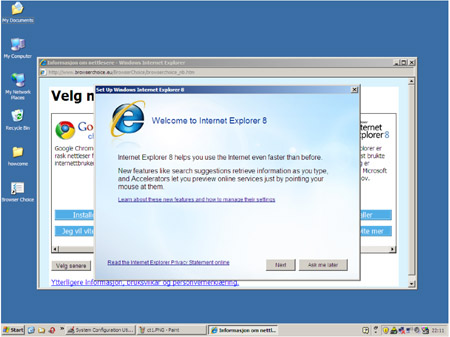 Opera fears that users will just ignore the ballot screen, and continue to use Internet Explorer without realising they had a choice.
Microsoft has dismissed the claims. "This scenario is very easy to reproduce in a test lab, but would occur only in unusual cases in the real world. For it to occur with the Browser Choice screen, the user would need to have IE set as their default browser and have never configured it for use. Opera's example, where a Windows XP user has rejected installation of IE 8 for the year it has been available but suddenly decides to install it is not realistic" said a Microsoft spokesperson.
Opera has alerted the European Union of the problem.