Microsoft has made changes to the browser ballot screen that will be shipped with Windows 7, and rolled out to past versions of Windows in European Union countries, in a bid to keep the European Union happy.
The ballot screen will give users the easy choice to download and install up to 12 different browsers, with the big 5 – Apple Safari, Google Chrome, Microsoft Internet Explorer, Mozilla Firefox and Opera heading up the list.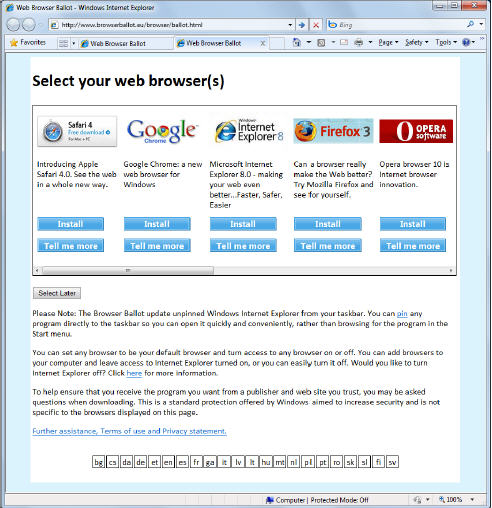 Changes to the ballot screen include:
Make it so competing browsers can be downloaded from the ballot screen more quickly and easily
Ensure equivalent placement on the Windows 7 taskbar for Internet Explorer and all other browser icons
Add introductory information, improving the design of the ballot page about each browser to help users make more informed choices
Alphabetize the list of browsers so that the five most popular are listed first (by vendor), followed by the next seven most popular (also alphabetically ordered), so that 12 choices are displayed in total
Provide the browser ballot to users for five years
The browser ballot screen is set to be rolled out to users on October 22nd, the same day Windows 7 goes on sale worldwide.