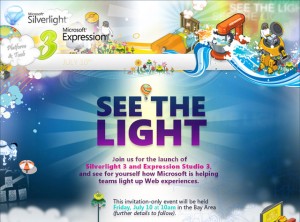 Microsoft has confirmed to Silverlight 3 beta testers that Silverlight 3 will be released to the public on July 10th, much earlier than the original expected date of Q4 2009.
Silverlight 3 adds many new features, including 3D support, local graphics acceleration, and H.264 video.
Silverlight is Microsoft's answer to Adobe AIR and Flash, and is available on PC and Mac. The current beta can be downloaded from Microsoft.