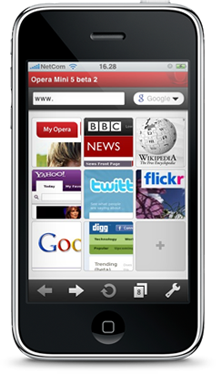 Opera Software plan to preview Opera Mini for iPhone at the 2010 Mobile World Congress.
"We are thrilled to offer journalists and partners an exclusive preview of Opera Mini for iPhone during the year's biggest mobile event," said Jon von Tetzchner, Co-founder, Opera Software.
"This is a unique opportunity to introduce the fast, feature-rich Opera Mini experience for the iPhone, and to showcase our latest beta releases of Opera Mobile and Opera Mini on other platforms and devices. Opera's mission is to bring the Web to the world, and by making Opera Mini available on yet another platform, we are one step closer."
Such an exercise by Opera could be completely pointless, as Apple may deny the browser entry to the App store as it may compete directly with the iPhone's version of Safari.
"We hope that Apple will not deny their users a choice in Web browsing experience," Tetzchner told Reuters.
Opera also plan on showing other versions of their mobile browsers at the Mobile World Congress which is being held between February 15th and 18th in Barcelona.